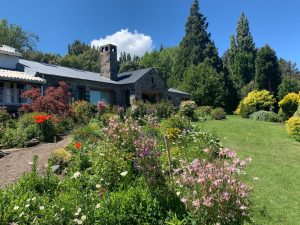 After years of scouting many areas, we have recently secured for our guests what perhaps is one of the finest Red Stag hunting ranches in all of Argentina. This area in northwest Patagonia, at the foothills of the Lanin Volcano, has it all: a healthy deer population, a breathtaking mountain country interspersed with lakes and streams, and a beautiful historic ranch with an amazing view of the Huechulafquen lake, offering an ideal high-country sporting holiday.
The property is located in Junín de los Andes, very near the area where Red Deer from eastern Europe were first introduced in Patagonia, well more than one hundred years ago. The stags that populate this region are 100% wild free-roaming game that migrate through the terrain, even across the mountains into Chile and back.
As with our other properties, we practice strict herd management, harvesting only mature stags that are at the pinnacle or on the downslope of their reproductive life. We focus on these elder mountain stags that come from the high Cordillera into the lower valleys looking for hinds during the rut.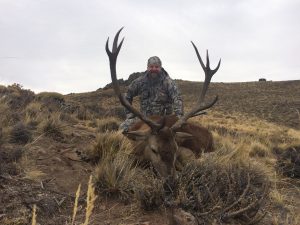 LODGE LOCATION
Estancia Lanin is located in the Junin de los Andes area, in the province of Neuquén, just 35 miles west of the Chapelco Airport (CPC). The estancia is located at the foot of the iconic Lanín Volcano, on the northern shore of lake Huechulaufquen, one of Argentina's largest andean lakes. The views are stunning!

Getting There
To get to Estancia Lanín you need to fly into Buenos Aires (Ezeiza Intl. Airport – EZE), which is served with daily direct flights from many U.S. or European cities. Once there, you'll transfer to the domestic airport Aeroparque Jorge Newbery – AEP (40' to 1 hr drive), and have two options:

Connect to Chapelco Airport (CPC), which is located only 1 hour away from the lodge. Aerolineas Argentinas (aerolineas.com.ar) runs daily commercial flights from Aeroparque.
Fly to Bariloche Airport (BRC), which is located about 3 hours away from the lodge, and has daily flights from Buenos Aires and other regional hubs.