Blog
---
10 Tips preparing for the Perfect Hunt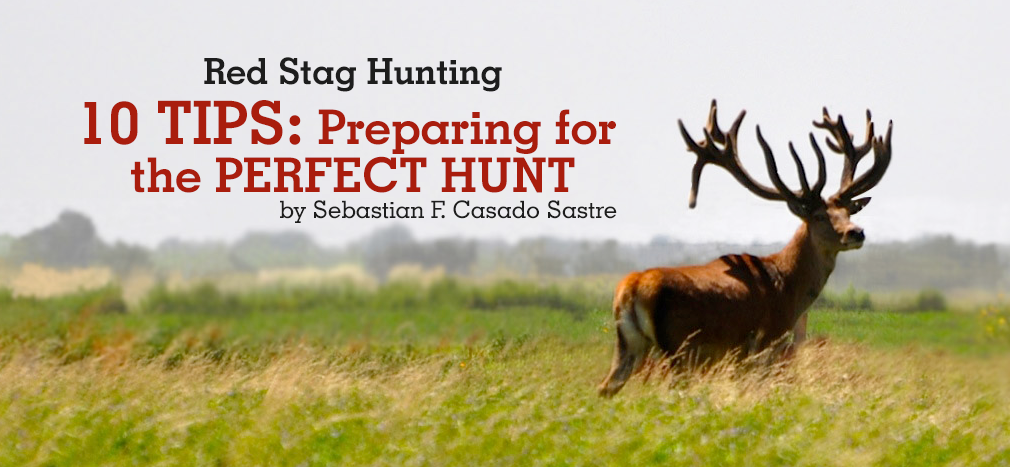 Sebastian F. Casado Sastre is not only the co-owner, but also the head guide for Red Stag Patagonia. With more than three decades of Big Game hunting experience, specializing in Red Stag, he's known as one of Argentina's most accomplished Big Game outfitters.
Sebastian has shared some of his extensive knowledge on what it takes to plan and execute the Perfect Red Stag Hunt.
These 10 tips will not only prepare you for your hunt, but they'll also allow you to turn your experience into an unforgettable Trip of a Lifetime!
The Red Stag season in Argentina and Chile runs during the fall, but without a doubt, the best time of the season is during the rut, also known as the "Roar". The Roar occurs between early March and mid- to late April. This time of the year is comparable to September and October in the Rocky Mountains of the American West.
Before you book a Red Stag Hunt, it's important to think about what type of hunt you prefer. Considerations include: the type of lodging you want, if you're coming with non-hunting companions; the kind of trophy you're looking for, if you want to do a mountain hunt; or whether easy going, lower elevation hunts make more sense.
Knowing the terrain, the game behavior, judging trophies, and assessing safe hikes in the mountains are only a few of many aspects that go into a successful hunt. That's why a good guide is a must on every stag hunt. Most times each hunter will have his own guide for the entire duration of the hunt (1×1 guiding). Although, some prefer to share the ride with a fellow hunter (2×1 guiding). Since the hunts are all on big private ranches, with very light-hunting pressure, there's always opportunities for everybody.
Before your hunt starts you should always have a talk with your guide/outfitter. The idea is to discuss information that will make your hunt more enjoyable and safe. They will need to know your hiking capabilities, if you can handle high altitudes with thin air, if you're willing to ride horses, what kind of trophy you're looking for, etc.
Weapons must be sighted in at the ranch before the hunt starts. No matter if you bring your own rifle, which was shooting awesome at home, it needs to be shot to make sure it made the trip fine. If you are using a rental gun from the ranch, it must be tried as well, to make sure you're familiar with its operation, and to make sure it shoots well for you. Usually, there are a couple of options, so you can try different rifles and stick to the one that you liked and/or shot the best. The same will apply for Archery gear.
Like most big game hunts, and especially mountain hunts, it's important to have quality gear. Not only it will make your hunt more enjoyable, but also safer! Two of the most important items to bring on a Stag hunt are: A) A high-quality, broken-in pair of hunting boots, with good ankle support. The worst thing you can do is showing up in camp with a brand new pair of boots. They will likely give you blisters and that will ruin your hunt. If you plan to use new boots, get them a few months in advance and walk/hike with them from time to time to break them in. B) Another highly important item is a good pair of binoculars. Without them, it's like hunting blind. Keep in mind that you will spend lots of time glassing, so the higher quality the glass you can bring the better.
Our Stag hunts in Argentina and Chile are conducted on big private ranches where the hunting pressure is very light, so typically you will encounter many shooting opportunities during the day. It is very important to pay attention, and to allow your guide to properly judge trophies. You will come across many nice looking Stags, but they may not be old enough to harvest. On most good Red Stag Hunting ranches they have a herd management plan in place, where only old, mature bulls are harvested, so don't get frustrated if your guide tells you that a big stag is not a shooter.
Once you and your guide locate a Stag that you like, one that's okay to harvest, you will proceed on foot for the final approach into shooting range. Remember to tell your guide ahead of time the maximum distance you feel comfortable shooting with the weapon you are carrying. Before taking the shot, look for the most comfortable rest you can find. Three-legged shooting sticks are always a popular choice, and most guides carry one. Also, a good rock or stone with a backpack can offer a very solid rest. If you are going to shoot prone, check your eye relief to avoid a half moon cut on your eyebrow.
Okay, now that you have your trophy on the ground, it's time to get some good pictures. Make sure you have your camera or phone along. Let your guide position the Stag in a way to get good images, good light, etc. Try different angles, and take a bunch of photos. You can never have too many!
Finally, tell your guide/outfitter how you would like your trophy. European, shoulder mount, pedestal, full body, etc. They will take care to prepare it accordingly. You can expect at least 6 to 8 months to get your trophy delivered. The issuing of the export paperwork by government agencies, clearing customs and shipping, can take a while.