Our Chilean program offers a truly unique opportunity to hunt for the enormous Red Stag that roam this part of Southern Chile. The area combines abundant food, excellent cover, and over 80 years of selective herd management, resulting in the production of some of the world's largest wild stags. The deer are completely wild, and all hunts are conducted in fair chase on an unfenced ranch. Due to the limited number of stags harvested each year, availability for these hunts is extremely limited.

Your host and head guide is the owner of the property, providing you with an intimate knowledge of the terrain and the game that inhabit it. Hunts consist of stalking and glassing the valleys. The grounds feature soft, grassy rolling hills interspersed with thick stands of dark timber. Open fields and meadows make it easy to move around and spot deer. Nothing is more exciting than hearing these massive bulls roaring at close range through the early morning mist.

Our base is a beautifully located lodge where the owners themselves attend to small groups of guests. Built from local stone and wood, the lodge overlooks Rupanco Lake, adjacent volcanoes, and the main hunting grounds. In the evenings, guests will enjoy traditional asados (BBQ) and delicious home-cooked meals, accompanied by the finest Chilean wines.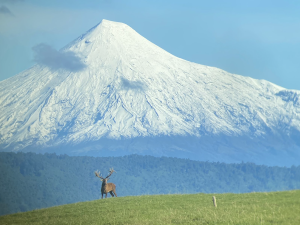 LODGE LOCATION
The 'Fundo,' as Chileans refer to their ranches, is situated in the Lake District within the X Region of Chile, approximately 650 miles south of Santiago.

Hunters will fly from Santiago (SCL) to Osorno City Airport, where they will be greeted by the ranch staff and then transported to the lodge. Helicopter transfers can also be arranged between the airport and the ranch.