Our hunting lodge is located within a 100,000-acre family owned estancia in the high desert foothills of the Andes. Situated in the province of Neuquen, approximately 40 miles southeast of San Martin de Los Andes, the ranch is a 2hr drive from Bariloche and San Martin airports.
The surrounding landscape includes lush green valleys irrigated by small creeks, set against a backdrop of high peaks. It is these rich pastures that concentrate the game, in particular, the red stag that comes here to feed. Aside from the red stag, the area is inhabited by a wide variety of animals such as Guanacos (a type of Llama), Choique (ostrich), Wild Boar, Pumas, Foxes and much more.
The Red Stag hunting season occurs during the rut—known in Argentina as the brama. The vast estancia is entirely un-fenced and hunters typically encounter several herds of deer throughout the day. Pairs of hunters are accompanied by one of our guides, with an intimate knowledge of the terrain. Guests will move to the chosen hunting grounds by a combination of trucks and horses and then progress on foot for the hunt.
Hunters will stay in a refurbish former ranch staff house, close to the main estancia. With wood stoves and a cozy living room. This simple but comfortable lodge is the perfect place to unwind after a day's hunting.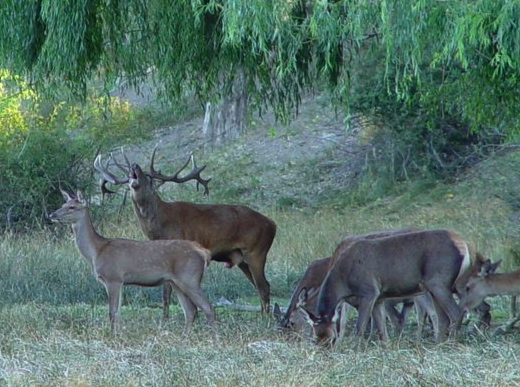 LODGE LOCATION
The estancia is located in the Collon Cura region in the province of Neuquen, 40 miles from San Martin de Los Andes and 80 miles from Bariloche, the largest city in southwestern Argentina.
Our Ranch is right in the heart of the Red Deer population area in the high desert foothills of the Andes. Also, some of the best trout streams of Northern Patagonia are in the same area, so trout fishing is very easy to combine or add to your hunt.
GETTING THERE
Hunters fly from Buenos Aires to Bariloche or San Martin, two major cities in south Patagonia serve with daily flights.
Guests will be collected from the local airport by the ranch staff and then driven to the lodge.